Hand 200 Billion is almost here! Claim your share of more than $1,000,000 via exclusive offers!
You've played billions, and billions (and billions) of hands at our tables, and from April 15, it's time to say thank you.
Open your lobby, register for your favourite games, and get ready. The 200 Billionth Hand is coming - make it one you'll never forget with 200 Billion Hands Celebration offers where we will be giving away more than a million dollars in free giveaways!
Win $10,000 in the 200 Billionth Hand
Get dealt into hand number 200 Billion and you'll net $10,000 instantly. It doesn't matter if you're playing a tournament or a cash game. It doesn't matter if you fold preflop or river quads; anyone dealt into the 200 Billionth Hand will win $10,000 – win, lose or fold.
But $10,000 isn't the only prize you can win. Read on for more offers coming your way from April 15. Plus, don't forget: you can win up to $3 Million in limited-edition Spin & Go's running now!
200 Billion Hands – Offers & Rewards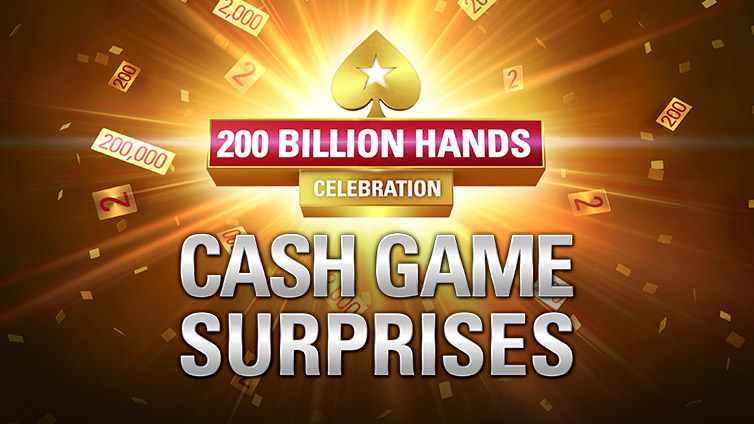 Cash Game Surprises
Play cash games during selected hours for the chance to win Chests stuffed with rewards. No opt-in required. Just take a seat, win a hand, and you could win a Chest!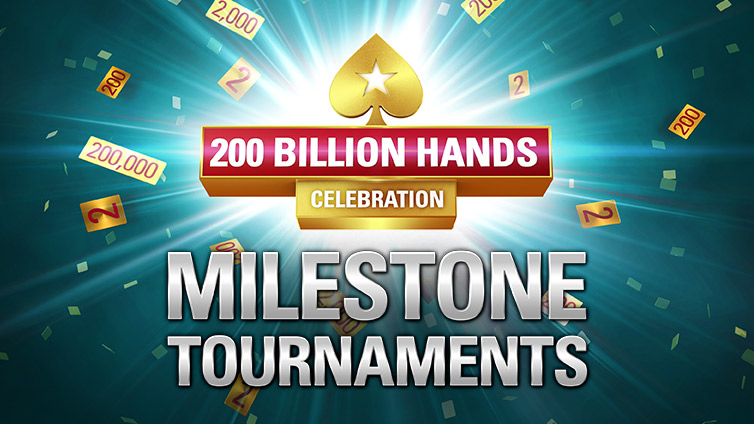 Milestone Tournaments
Enjoy random tournament ticket drops and play some of our biggest events for free. Just register for select tournaments for a chance to win.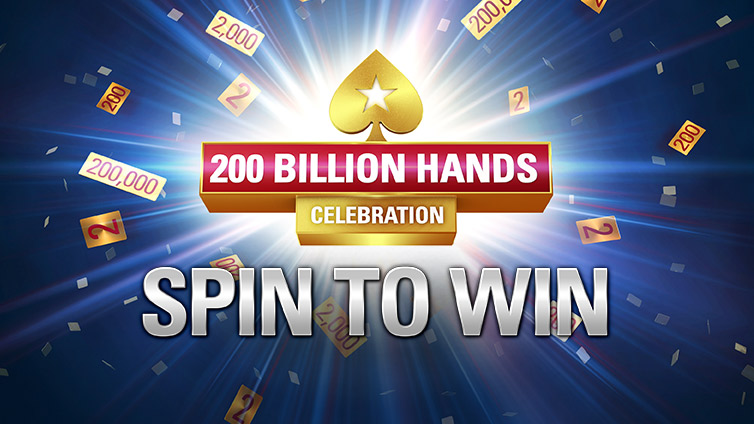 Spin to Win
Log in and play a single hand of poker to get a new reward, every day. Over $650,000 in prizes to be given away - win up to $2,000 each time.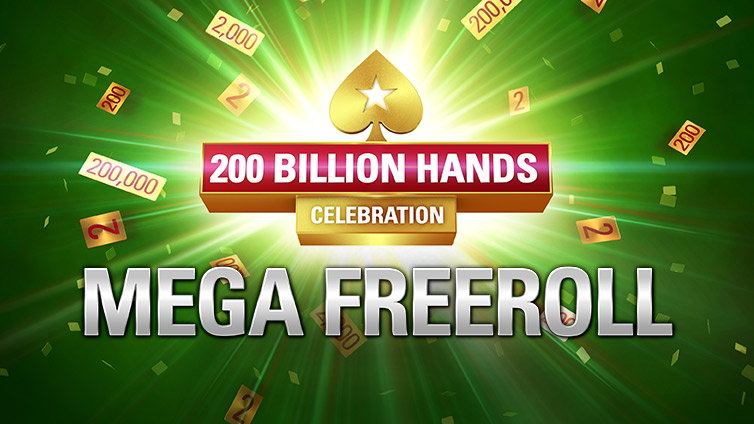 Mega Freeroll
Grab a slice of $200,000 in the 200 Billion Mega Freeroll! Play a hand at any real money table before May 1 for your chance to qualify.
The following are the rules ("Rules") of the '200 Billion Hands Celebration' promotion (the "Promotion") taking place on the PokerStars GUI software (the "Client"), as organized by the promoter ("PokerStars" / "we"/ "our"/ "us")
Any entrant ("Entrant" / "you"/ "your") who wishes to participate in the Promotion hereby agrees to: (i) these Rules; and (ii) the general terms and conditions for promotions on our site (collectively, the "Terms & Conditions") and agrees to be unconditionally bound by all of the same so as to participate in this Promotion.
Details of Promotion

This Promotion takes place from 00:00 ET on April 15 – 23:59 ET on May 1, 2019 ("Promotion Period").
Throughout the Promotion Period, we will offer random reward prizes from our 200 Billion Celebration Wheel ("200 BCW") which will be displayed on the 200 BCW window in the Client.
For the duration of the Promotion Period, you;

can earn and play 1 (one) daily spin at the 200 BCW by playing one hand at any real money table on the Client each day; and
will receive a ticket to the 'Mega Freeroll' along with your first daily spin on the 200 BCW when you play your first hand at any real money table; and
have a chance to win a $10,000 cash prize from the '200 Billionth Hand' when it is dealt, provided that; (i) you are playing a hand at the real money table where the 200 Billionth Hand is dealt; and (ii) are not sitting out of that hand; and
have a chance to win additional reward chests ("Chest") at our cash game tables on the Client during specified times on the "Cash Game Surprise" web page.

In the event that the 200 Billionth hand is dealt on one of our play money tables, the players dealt into the first eligible hand on a real money table after the 200 Billionth hand has been played (subject to Clause 1.3(c) above), will each win a cash prize of $10,000.
You will only be eligible to receive prizes from the Cash Game Surprise if, during the specified times advertised, you win a hand during a real money cash game.
At least three players need to be dealt into the real money cash game hand to be eligible for a Cash Game Surprise.

Prizes

All rewards that form part of this Promotion will be credited instantly after the spin on the 200 BCW and will be yours to keep, with no restrictions or earning requirements.
All players who are dealt into the 200 Billionth Hand will win a cash reward of $10,000.
All cash rewards from the 200 Billionth Hand will be credited within 24 hours after the hand has been played.

Miscellaneous

Any unused freeroll tickets won and/or received from either the 200 BCW or the Mega Freeroll will be forfeited at the end of the Promotion Period.
Tickets won during the Promotion cannot be exchanged for cash.
We reserve the right, at any time, to alter these Terms and Conditions or cancel the Promotion altogether where we believe that the Promotion is not capable of being conducted as specified or as a result of any unforeseen circumstances which affect the administration and/or any changes to any Promotion shall be made on the Site.
By entering this Promotion, you hereby confirm and agree that you wish to be bound by these Terms & Conditions.